You have a business and now you need a way to communicate to your audience. But better way is there than using your storefront itself? You won't be alone either, the majority of storefronts across America display Vinyl Letters on their windows as a measure of advertising. This happens in a number of different ways as I'll go on to explain, but the fundamental truth is: your audience wants to see you're a thriving business and this is easily done by expressing some basic information.
Hours of Business
This is a great cornerstone to begin with, as it states the most basic information about your business- beyond the actual name itself. Though the placement and design may vary, typically you'll find the hours of operation located somewhere near the main door frame. You should be careful to keep these operational hours up to date as well, as your customers can become distrustful of your business when the simplest and possibly first bits of information they receive from you- is found to be untrue.
Business Name
Reaffirming your business on the door or windows of your business is a great way to reaffirm not only who you are, but provide physiological assurances to your audience that you're business is proud of itself, its name, and the services it provides.
Sale! Limited Time Only!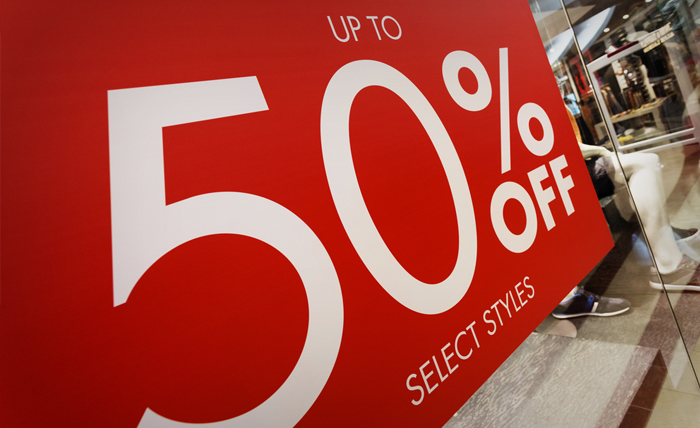 Undoubtedly if you've spent any amount of time walking through a mall, you've seen thousands of Vinyl Lettering advertisements on store windows; and though it may seem obvious it's because they work. Communicating directly to your audience in a clear cut message is the best possible solution and window lettering takes that approach to the extreme. Big bold letters that pop out at your audience are almost guaranteed to gain your audience's attention when it comes into sight. This of course, leads to the very next solution-
Seasonal Advertising
One of the fantastic elements of Vinyl Lettering, especially when it comes to static cling- is that the lettering is not required to be permanent. This brings us seasonal advertising, which is a fantastic way to remain relevant in the minds of your audience over the course of the year. This also allows for a more personalized experience and signs of growth within the company, rather than the same stagnant signage remaining on the windows month in- month out.
Floor Decals
Directing traffic within your establishment can be a major part of your business, especially when you're looking to secure the sale. Floor Vinyl Lettering and graphics for this reason has cropped up as proven method keep your traffic moving and informed. Though there are practical uses as well, such as directions to the bathroom. There's also fashionable designs, from colored lines directing customers to different departments or fun statements or reminders to customers who are looking for a different type of experience.
 Make It Your Own
One of the toughest aspects of your business can be creating the 'feeling' or look of your business. A look that captures who you are, where you came from and of course- where you're headed. But supplementing this endeavor is Vinyl Lettering and Graphics as a proven method to increase public awareness. The great news is every business is unique and that means your creativity shouldn't be stifled but unleashed to create and design anything you could imagine.